You know that it's not enough to explain the benefits of your service or product to your future client. Nowadays, with the competition and the large amount of information we all receive every day, it is essential to stand out. 
So if you send him a mere description of everything you can offer him, he will most likely read and look at your mail as he would read any other competitor's. What the customer expects from you these days are at least two things: 
That you know, recognize and understand what their needs or problems are to be solved
Tell him how other companies with similar problems to his have found your service or product useful
What would a good salesperson never do when providing referrals?
Faced with this situation, many companies choose the easy way out. Send your future client a list of all those companies that have trusted them or continue to do so today. The temptation to provide, in addition, a list of logos (if it is of large companies, better) is more common than it should be. 
Well, actually, it is not bad for a prestigious company to talk about the goodness of your service or product. It is not bad at all. But as we indicated, the logical thing is that any organization looks a little further. Before taking the step, we recommend you take a look at these tips that every good salesperson takes into account before providing a referral.
Never offer a cold listing
It will leave your future client just that way: cold. What else will it give him if you work for a very important company, if it has nothing to do with his sector and he has not experienced the difficulties that he and his company may go through? The best proof that you can help him is, without a doubt, in another client who has been in exactly the same circumstances.  
In this regard, it is appropriate to adjust expectations to the customer experience. Count the starting point, the difficulties raised and begin to unravel, little by little, the virtues of the service or product you can offer, adapted to the problems and context they share.
What better referral can you provide than that of a customer with similar needs, who has found in you the solution to their problems? 
The most important client does not have to be the best example
We said at the beginning that it is very easy to fall into the temptation of sending your future client a list of the best companies that work with you. It will serve to offer him a few referrals, yes, but it may not serve him at all.
In fact, even if you are very proud to have an important company in your portfolio of clients, sharing it may not be what seduces your new contact the most. It may be, yes, and it is important for him to know that there are big companies that trust you. But it will be of no use to him if you are not able to solve the problem he is worried about at the moment.
To provide referrals you should always choose a related company. That is, one that has presented the same difficulties or that is part of the same sector. A company that you have really helped and that can offer your new client the guarantee that you know exactly what you are talking about.
Share content that really interests them
Your future clients have a mailbox full of messages. And it's not that they don't answer them all because of lack of interest, but rather because of lack of time. For this reason, it is important to be direct and offer content that really moves you. 
Referrals are very useful and you can offer him the possibility of contacting clients similar to him who have obtained great results with you. But what if you prepare the content yourself and give him the job done? Videos are a super powerful tool to transmit information and to do it in a closer way.
Take advantage of this resource to tell your customers' stories. You can create different videos adapted to the typology and needs of each company. Although if you want and prefer, you can also write quality content, publish it on your blog or create an interesting ebook. 
Talk to your referral before taking the step
Obviously, before going down this road you will have to talk to your clients and ask them if they want to cooperate with you. It will be easier for you if you have a climate of trust and years of shared experience behind you.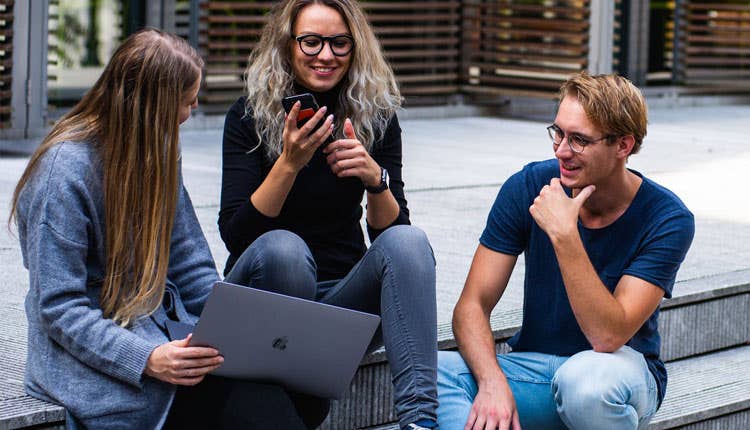 In any case, you will also have to make things easy for him, so that collaboration is a breeze and does not add to his workload. 
If you think it would be good to put your current client in touch with your future client, make sure you talk to the first one and that he or she agrees completely to share his or her experience. You'll all come out of this stronger. Good luck!